JinDELL Phosphor Storage Plates (PSP)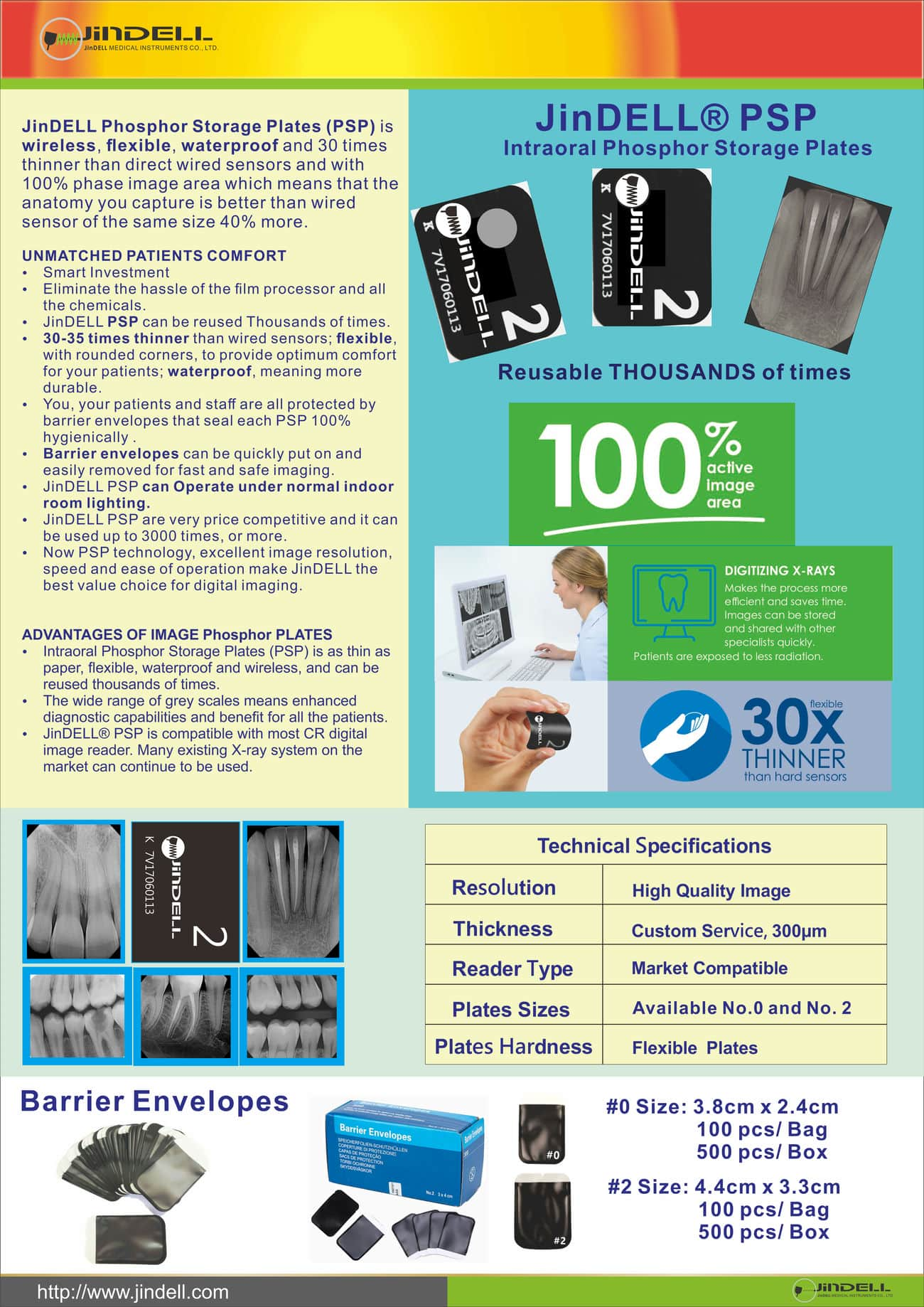 JinDELL Phosphor Storage Plates (PSP) is wireless, flexible, waterproof and 30 times thinner than direct wired sensors and with 100% phase image area which means that the anatomy you capture is better than wired sensor of the same size 40% more.
UNMATCHED PATIENTS COMFORT
Smart Investment

Eliminate the hassle of the film processor and all the chemicals.

JinDELL PSP can be reused Thousands of times.

30-35 times thinner than wired sensors; flexible, with rounded corners, to provide optimum comfort for your patients; waterproof, meaning more durable.

You, your patients and staff are all protected by barrier envelopes that seal each PSP 100% hygienically .

Barrier envelopes can be quickly put on and easily removed for fast and safe imaging.

JinDELL PSP can Operate under normal indoor room lighting.

JinDELL PSP are very price competitive and it can be used up to 3000 times, or more.

Now PSP technology, excellent image resolution, speed and ease of operation make JinDELL the best value choice for digital imaging.


ADVANTAGES OF IMAGE Phosphor PLATES
Intraoral Phosphor Storage Plates (PSP) is as thin as paper, flexible, waterproof and wireless, and can be reused thousands of times.

The wide range of grey scales means enhanced diagnostic capabilities and benefit for all the patients.

JinDELL® PSP is compatible with most CR digital image reader. Many existing X-ray system on the market can continue to be used.