Premium AirSonic Surgery Handpiece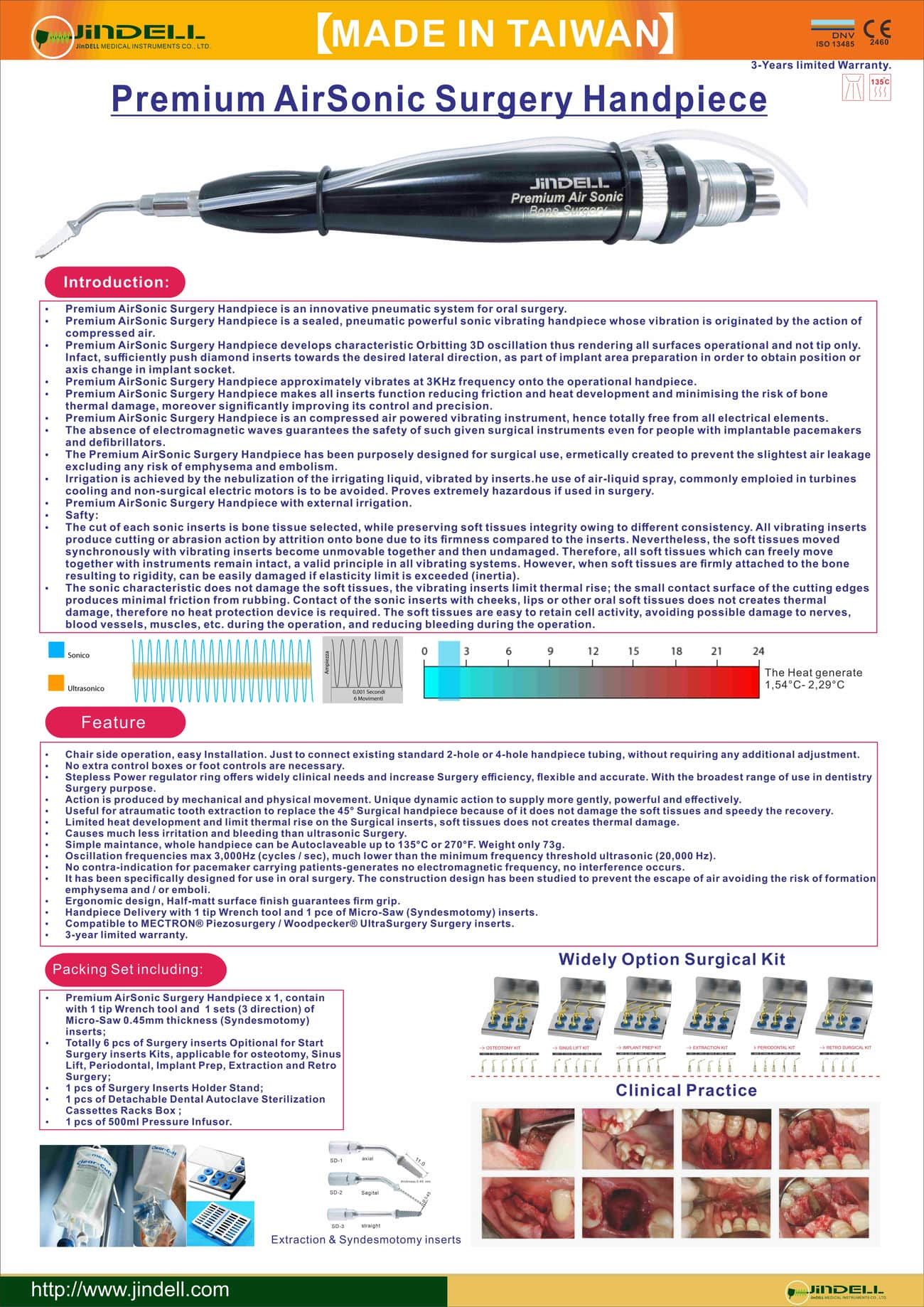 Premium AirSonic Surgery Handpiece
Introduction:
Premium AirSonic Surgery Handpiece is an innovative pneumatic system for oral surgery.

Premium AirSonic Surgery Handpiece is a sealed, pneumatic powerful sonic vibrating handpiece whose vibration is originated by the action of compressed air.

Micron cutting: The vibration amplitude of the tip is within 20-100µm. The minimum surgical incision is 3.5 mm in length and 0.6 mm in width which will help minimize the Surgical operation area and rapid postoperative recovery.
Selective cutting does not damage soft tissues: For soft tissues (nerves, blood vessels and mucous membranes, etc.), there is no cutting ingury effect, which can protect the blood vessels and nerves in the surgical area to a large extent, thereby greatly reducing the risk of damaging soft

tissues.

Cold surgical mode: Sonic technology produces almost no heat when Surgical cutting. Using pressurized ice- irrigating liquid can quickly cooling the Surgical Inserts and ensure that the temperature is always below 30°C (after 10 minutes of operation). At the same time, external irrigation can cleaning the surgical scraps and wound during the surgical operation without bleeding, making the surgical operation area with more clearly visible and operateasble.

Premium AirSonic Surgery Handpiece develops characteristic Orbitting 3D oscillation thus rendering all surfaces operational and not tip only. Infact, sufficiently push diamond inserts towards the desired lateral direction, as part of implant area preparation in order to obtain position or axis change in implant socket.

Premium AirSonic Surgery Handpiece approximately vibrates at 3KHz frequency onto the operational handpiece.

Premium AirSonic Surgery Handpiece makes all inserts function reducing friction and heat development and minimising the risk of bone thermal damage, moreover significantly improving its control and precision.

Premium AirSonic Surgery Handpiece is an compressed air powered vibrating instrument, hence totally free from all electrical elements.

The absence of electromagnetic waves guarantees the safety of such given surgical instruments even for people with implantable pacemakers and defibrillators.

The Premium AirSonic Surgery Handpiece has been purposely designed for surgical use, ermetically created to prevent the slightest air leakage excluding any risk of emphysema and embolism.

External irrigation is achieved by the nebulization of the irrigating liquid, vibrated by inserts.he use of air-liquid spray, commonly emploied in turbines cooling and non-surgical electric motors is to be avoided. Proves extremely hazardous if used in surgery.

Premium AirSonic Surgery Handpiece with external irrigation.

Safty:

The cut of each sonic inserts is bone tissue selected, while preserving soft tissues integrity owing to different consistency. All vibrating inserts produce cutting or abrasion action by attrition onto bone due to its firmness compared to the inserts. Nevertheless, the soft tissues moved synchronously with vibrating inserts become unmovable together and then undamaged. Therefore, all soft tissues which can freely move together with instruments remain intact, a valid principle in all vibrating systems. However, when soft tissues are firmly attached to the bone resulting to rigidity, can be easily damaged if elasticity limit is exceeded (inertia).

The sonic characteristic does not damage the soft tissues, the vibrating inserts limit thermal rise; the small contact surface of the cutting edges produces minimal friction from rubbing. Contact of the sonic inserts with cheeks, lips or other oral soft tissues does not creates thermal damage, therefore no heat protection device is required. The soft tissues are easy to retain cell activity, avoiding possible damage to nerves, blood vessels, muscles, etc. during the operation, and reducing bleeding during the operation.
Feature:
Chair side operation, easy Installation. Just to connect existing standard 2-hole or 4-hole handpiece tubing, without requiring any additional adjustment.

No extra control boxes or foot controls are necessary.

Stepless Power regulator ring offers widely clinical needs and increase Surgery efficiency, flexible and accurate. With the broadest range of use in dentistry Surgery purpose.

Action is produced by mechanical and physical movement. Unique dynamic action to supply more gently, powerful and effectively.

Useful for atraumatic tooth extraction to replace the 45° Surgical handpiece because of it does not damage the soft tissues and speedy the recovery.

Limited heat development and limit thermal rise on the Surgical inserts, soft tissues does not creates thermal damage.

Causes much less irritation and bleeding than ultrasonic Surgery.

Simple maintance, whole handpiece can be Autoclaveable up to 135°C or 270°F, Weight only 73g.

Oscillation frequencies max 3,000Hz (cycles / sec), much lower than the minimum frequency threshold ultrasonic (20,000 Hz).

No contra-indication for pacemaker carrying patients-generates no electromagnetic frequency, no interference occurs.

It has been specifically designed for use in oral surgery. The construction design has been studied to prevent the escape of air avoiding the risk of formation emphysema and / or emboli.

Ergonomic design, Half-matt surface finish guarantees firm grip.

Handpiece Delivery with 1 tip Wrench tool and 1 pce of Micro-Saw (Syndesmotomy) inserts.

Compatible to MECTRON® Piezosurgery / Woodpecker® UltraSurgery Surgery inserts.

3-year limited warranty.
Promotion Set Include:
Premium AirSonic Surgery Handpiece x 1, contain with 1 tip Wrench tool and 1 sets (3 direction Optional) of Micro-Saw 0.45mm thickness (Syndesmotomy) inserts;
Totally 6 pcs of Surgery inserts Opitional for Start Surgery inserts Kits, applicable for osteotomy, Sinus Lift, Periodontal, Implant Prep, Extraction and Retro Surgery;
1 pcs of Surgery Inserts Holder Stand;
1 pcs of Detachable Dental Autoclave Sterilization Cassettes Racks Box ;
1 pcs of 500ml Pressure Infusor.