TITANIUM LINE Without Light
Premium ULTRAmini QD
--to be ideal for paediatric dentistry
– it simply unbeatable when it comes to carrying out treatment in hard-to-reach places or if patients cannot open their mouths that wide.
---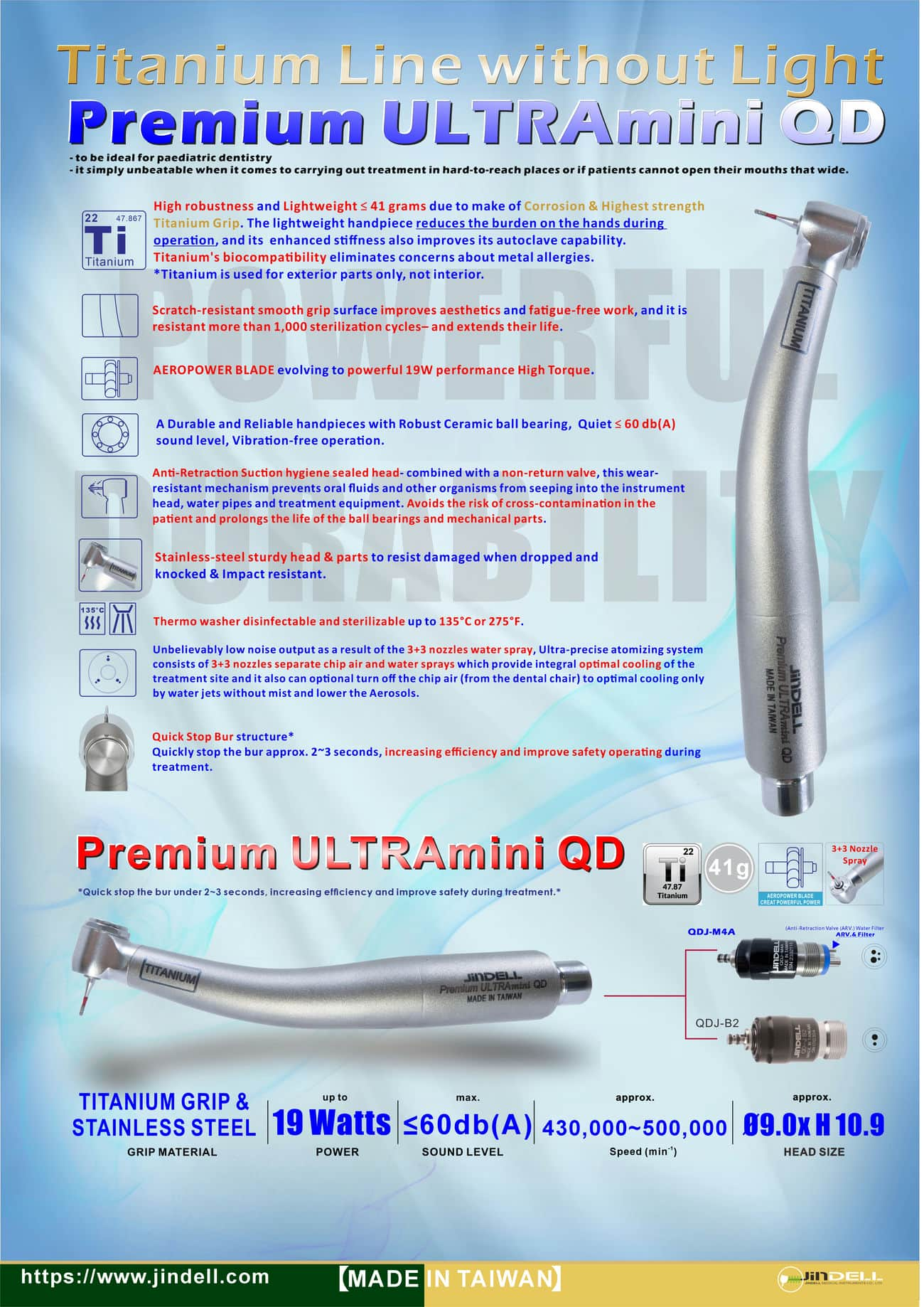 ---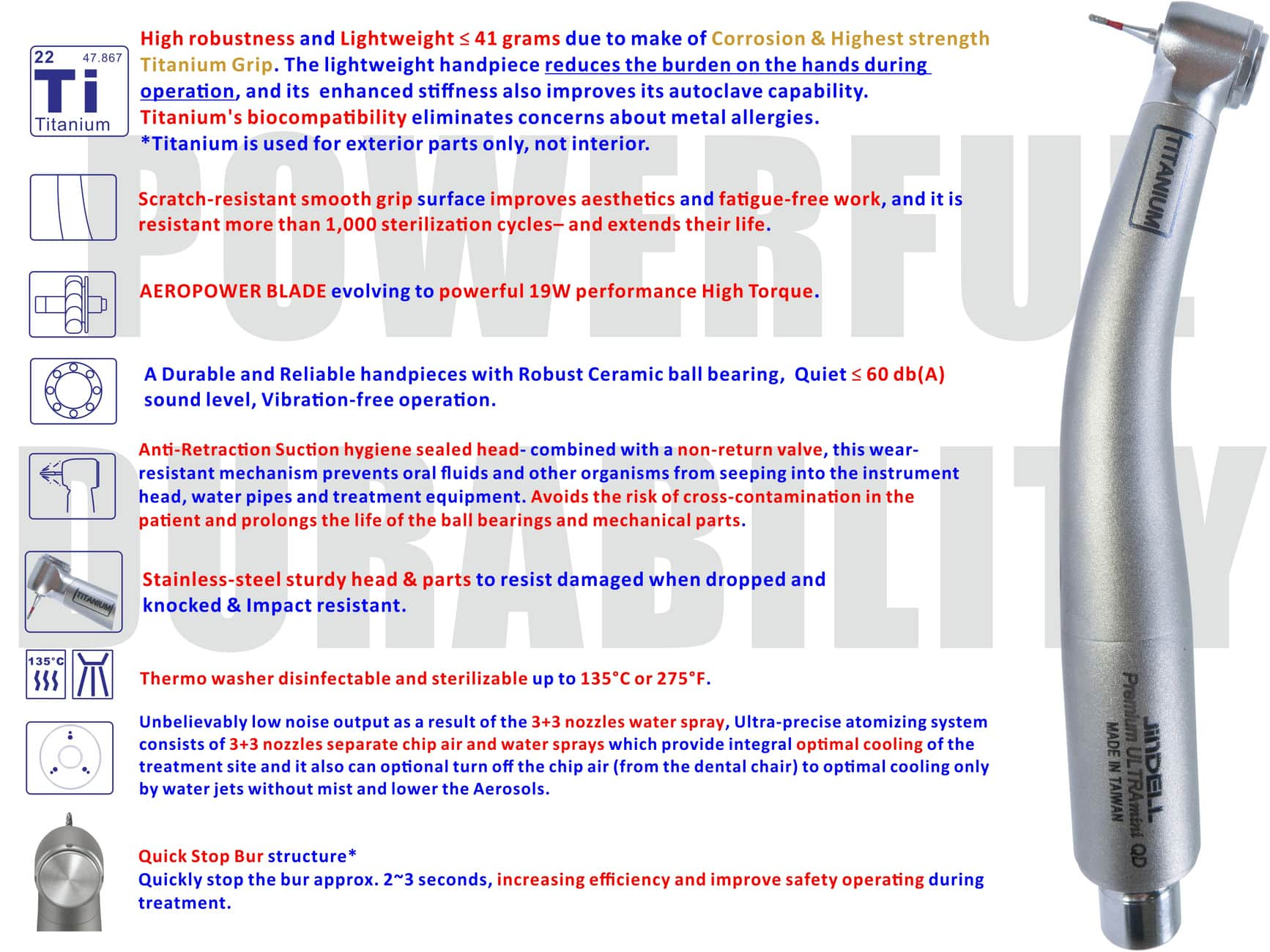 ---

---
30% lighter weight

than normally Air Turbine, reducing the burden on your hand while in use.

High robustness and

Light-weight

due to make of

Corrosion & Highest strength Titanium Grip

and

Stainless-steel sturdy head

to

resist damged when dropped and knocked

and with

Scratch-resistant surface finish.

Ultra-Mini Micro Head for Pediatric Dentistry

.

Dimensions (

Ø9.0 mm x H10.9mm

) ensure ergonomic comfort and precise results while guaranteeing an optimum view at all times.

Quick stop the bur approx. under 2~3 seconds

,

increasing efficiency cutting and improve safety during treatments and operation

, it also

enghanced zero suck back

.

Anti-Retraction Suction hygiene sealed head- combined with a non-return valve

, this

wear-resistant mechanism

prevents oral fluids and other organisms from seeping into the instrument head, water pipes and treatment equipment.

Avoids the risk of cross-contamination in the patient and prolongs the life of the ball bearings

.

Unbelievably low noise output

as a result of the

3+3 nozzles water spray

, Ultra-precise atomizing system consists of

3+3 nozzles separate chip air and water sprays

which provide integral

optimal cooling of the treatment site

and

it also can optional turn off the chip air (from the dental chair) to optimal cooling only by water jets without mist

.

Whisper Quiet, vibration-free operation ≦60 db(A)

Sound level, provides a better patient experience and offers a comfortable working environment.

Idling speed

380,000~450,000 min-1

.

Push button Chuck

& Back cap.

Robust Premium Quality

Ceramic ball bearings

- wear resistant give the handpiece a longer useful life and reduce noise levels.

Glass rod Fiber optic.

Powerful torque of 19 watts.

*

Lighter Weight 46.5 grams

.

Available to

NSK® QDJ

type Coupling.**

Scratch-resistant surface improves aesthetics even more – and extends their life

.

Fatigue-free work

.

Thermo washer disinfectable and sterilizable up to 135°C

or 275°F.

FG burs Ø 1.6 mm

for

short shank burs

lengths

up to 21 mm

.

Whole dental handpiece stand for a long service life with a limited warranty of at least 24 months except the Bearings of Air Turbine.

Stand for a long service life with a limited warranty of at least 12 months for the Bearings of Air Turbine.

Upgraded wedge design for enhanced clamping force & improved bur retention over time .
Precision Balancing.
State-of-the-Art manufacturing cell for impellers.
Stainless steel bur guide bushing improves bur concentricity and extend chuck life.
Heat-treated, precision-ground spindle with honing of critical dimensions and reduces chuck wear and prolongs life.
EDM precision machined collet.
---
* Performance value applies at a rated pressure of 3 bar and exhaust air pressure of max. 0.2 bar