1S Super Light Curing
High power Wireless LED Curing Light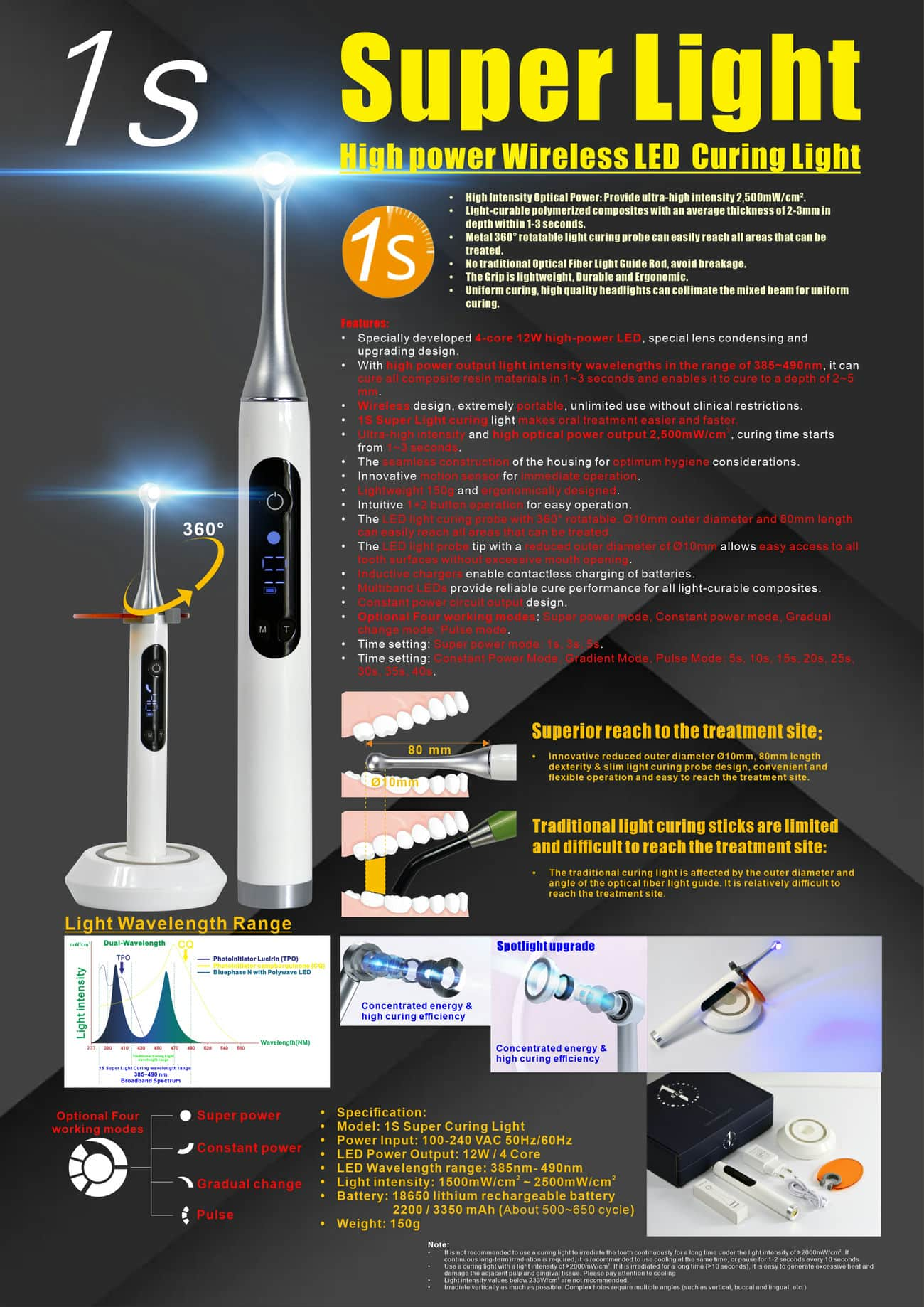 Features:
Specially developed

4-core 12W high-power LED

, special lens condensing and upgrading design.
With high power output light intensity wavelengths in the range of 385~490nm, it can cure all composite resin materials in 1~3 seconds and enables it to cure to a depth of 2~5 mm.

Wireless

design, extremely

portable

, unlimited use without clinical restrictions.

1S Super Light curing

light makes oral treatment easier and faster.
Ultra-high intensity and

high optical power

output 2,500mW/cm2, curing time starts from

1~3 seconds

.
The

seamless construction

of the housing for

optimum hygiene

considerations.
Innovative

motion sensor

for immediate operation.

Lightweight 150g

and ergonomically designed.
Intuitive 1+2 button operation for

easy operation

.
The

LED light curing probe

with

360° rotatable

, Ø10mm outer diameter and 80mm length can easily

reach all areas that can be treated

.
The

LED light probe tip

with a reduced outer diameter of Ø10mm allows easy access to all tooth surfaces without excessive mouth opening.

Inductive chargers

enable contactless charging of batteries.
Multiband LEDs provide reliable cure performance for all light-curable composites.

Constant power circuit output

design.

Optional Four working modes

: Super power mode, Constant power mode, Gradual change mode, Pulse mode.
Time setting: Super power mode: 1s, 3s, 5s.
Time setting: Constant Power Mode, Gradient Mode, Pulse Mode: 5s, 10s, 15s, 20s, 25s, 30s, 35s, 40s.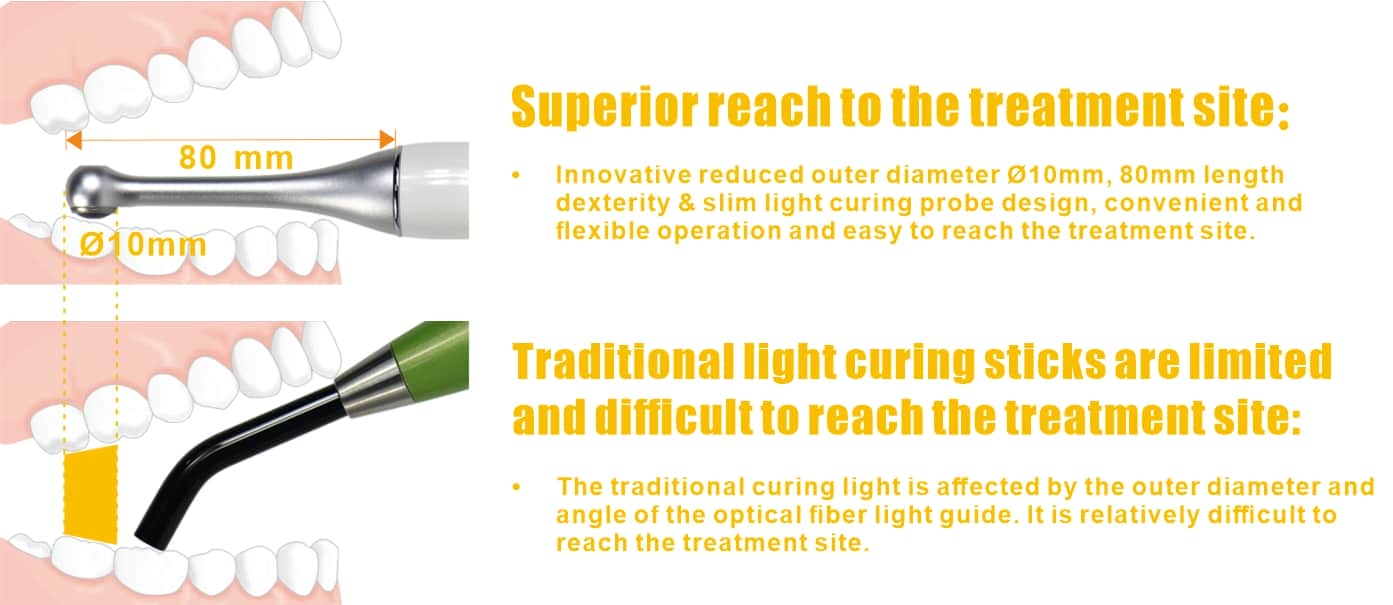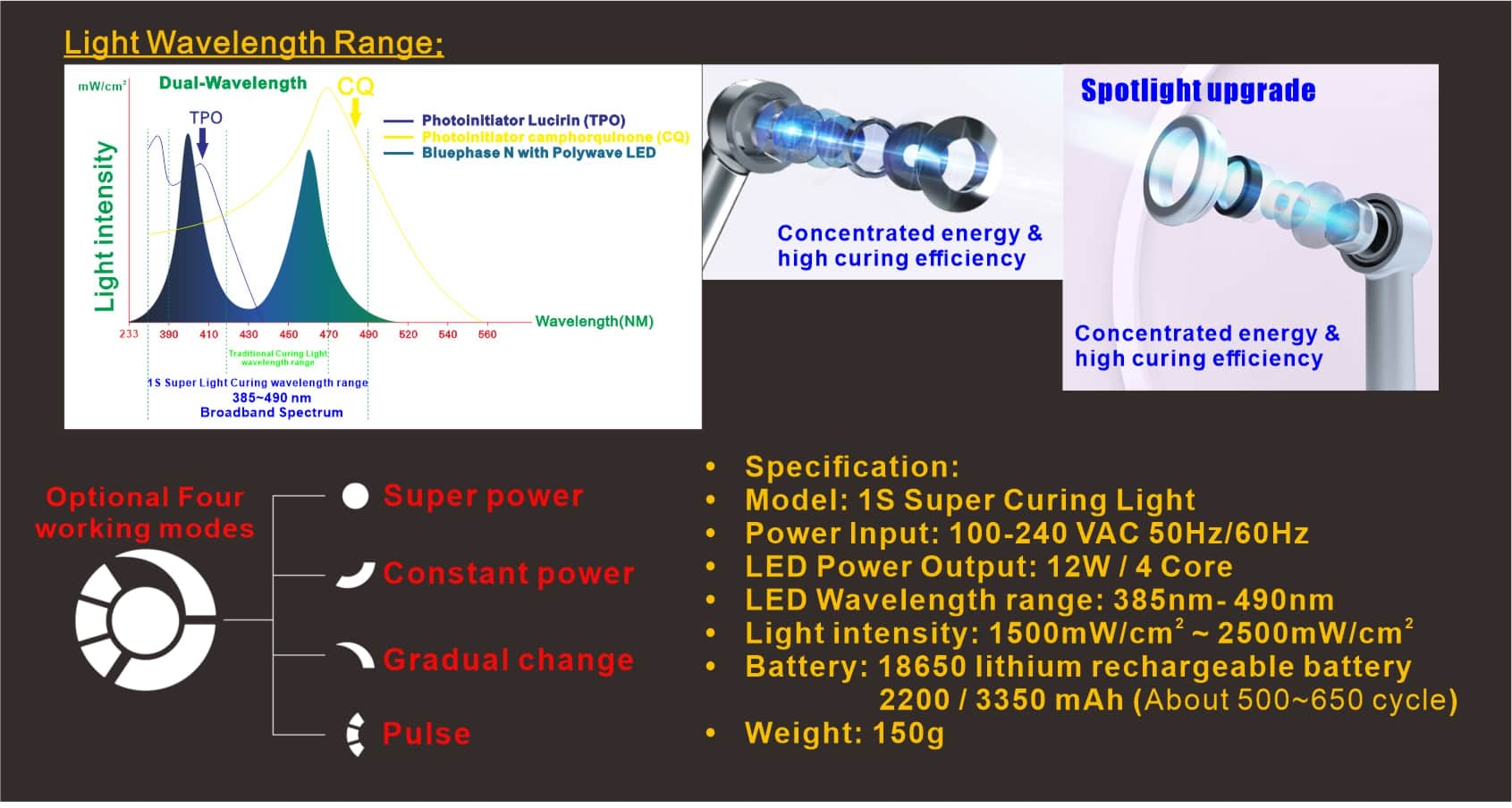 Note:
It is not recommended to use a curing light to irradiate the tooth continuously for a long time under the light intensity of >2000mW/cm2. If continuous long-term irradiation is required, it is recommended to use cooling at the same time, or pause for 1-2 seconds every 10 seconds.
Use a curing light with a light intensity of >2000mW/cm2. If it is irradiated for a long time (>10 seconds), it is easy to generate excessive heat and damage the adjacent pulp and gingival tissue. Please pay attention to cooling.
Light intensity values below 233W/cm2 are not recommended.

Irradiate vertically as much as possible. Complex holes require multiple angles (such as vertical, buccal and lingual, etc.).
#1S #SuperLight #385nm #490nm #Broadband #Spectrum #Lightintensity #Dentalcuring #Dental #DentalLABcuring #Dentalindustrial #LABcuringlight #Curing_light #CuringLight #Dental #Dentistry #Orthodontology