Air Polishing Prophylaxis Jet Handpiece
---

JinDELL Air Polishing Prophylaxis Jet Handpiece
---

---


---

---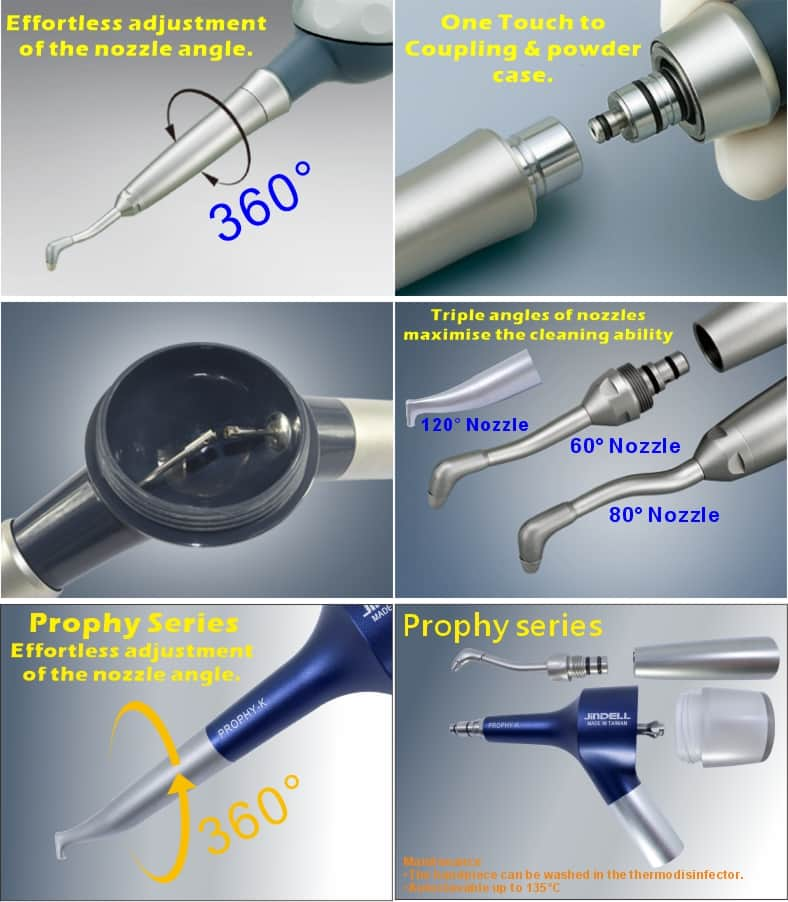 ---
Features:
Highly efficient, clean work, light-weight

, accurate and with the best possible protection of healthy dentin.

Extremely versatile;

attaches to the handpiece tubing connector

of virtually

any dental chair, Simple to use

.

Lightweight, compact design

and

well-considered weight balance

enable

easy handling for minimized hand and wrist fatigue

, helping to ensure thorough treatment.

Nozzles and handpiece can be disassembled

,

easily to clean and maintained

more thoroughly and

washed in the

Thermodisinfector

. No complicated installation procedures,

plug and play, simple and easy to operate

.

Large capacity powder case

,

compatible with all common dental chair handpiece tubing connections

.

Durable

Stainless steel grip

.

Autoclavable up to 135°C or 270°F except the capacity powder case

.

Positive pressure and with internal water system

design,

enstronger spray, reduce powder contamination, dust and mist flying. Substantially smaller debris radius

.

Air-water separation, double anti-suction design, no pollute the dental chair internal pipeline

.

Prophy Partner series

models with r

eplacement 60° ,80° and 120° nozzles

maximize the cleaning ability.

Prophy series

models with

r

eplacement 60° and 120° nozzles

maximize the cleaning ability.

Rotatable smoothly 360° nozzles

for easy operability, responding flexibly to minute fingertip movements with

effortless adjustment of the nozzle angle

, suitable for different treatment requests.

One-touch attachment

to

NSK® & KaVo® couplings

or

also 4-Hole Fixed backend connections

. And also can be

attached to the capacity powder case

with

one-touch operation

.

120° nozzle

is suitable for

multi-purpose supragingival and subgingival cleaning

. Combined with

sodium bicarbonate whitening sandblasting (Prophy) powder

and

glycine sanblasting

(Prophy)

powder

, it can

easily and thoroughly clean plaque, pigment and other mineralized deposits

.

60° nozzle

works

especially well for molar area and occluding surface

, and

80° nozzle for anterior tooth

.

Gentle treatment, no drilling, no injections, no noise, no vibration and no unpleasant sensations in the mouth: pleasant for your patients, suitable for sensitive patients, children and young adults, dental Scaler & cleanings, appointmented patients and orthodontics patient.
---
Sodium bicarbonate Prophy Cleaning Powder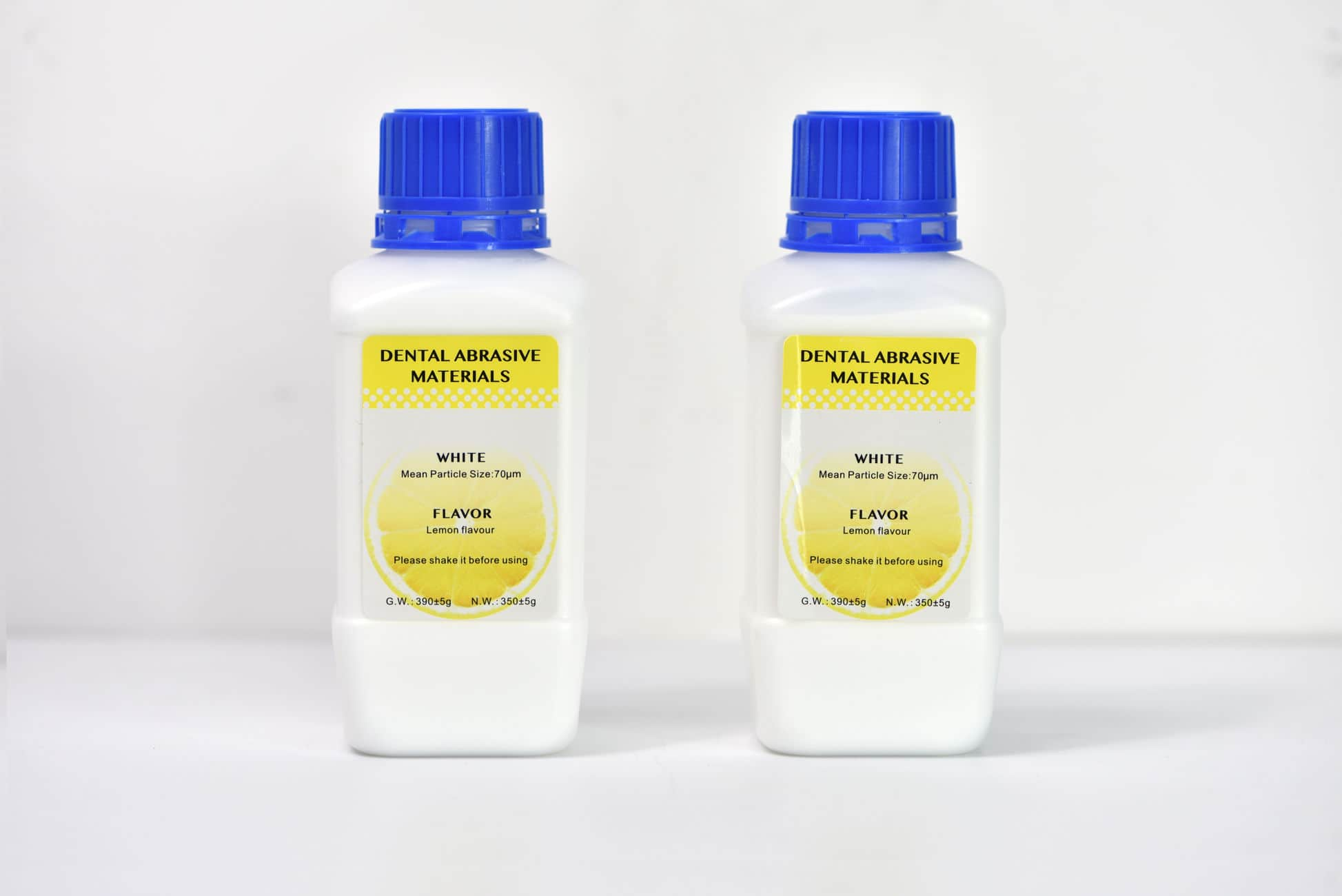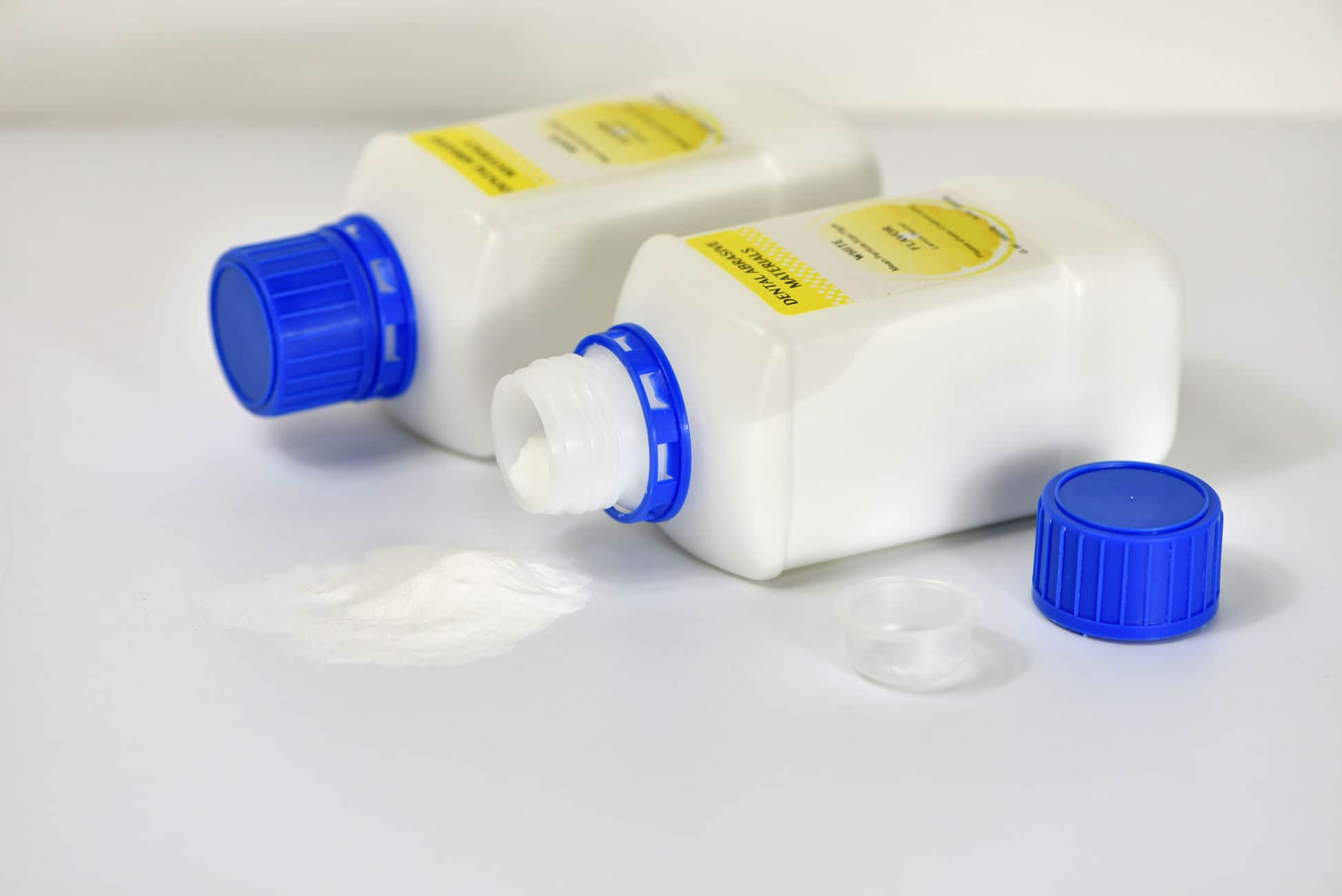 Product Details
Sodium bicarbonate cleaning powder for use with air prophylaxis cleaning (Air polishing jet handpiece) units.
Great tasting flavors both smell and taste as flavor indicates

Comfort during removal of supragingival stain. It is used to remove biofilm, plaque, stains and heavy pigmentation.

Sodium bicarbonate – for use on enamel

Compatible with all air-polishing units

Container Size:

350g (Lemon Flavor)

Container Type: Bottle

Flaver: Lemon (

350g)

Flaver Family: Fruit

For Use with: Air-N-Go™,Air Flow™,ProphyBrite™, Air-Max™, Microphy™, Prophy Max™, PROPHYflex™ 3, Prophy Neo™, Air Prophy Partner.

Manufacturer Name: JinDELL Medical Inst., Co., Ltd.

Package Quantity: 1/PKg

Product Type: Prophy Powder


#AirProphy #Prophy #Prophy_Partner #Prophy-Mate_neo #Prophy-Mate #PROPHYflex #air polisher #Jindell #AirPolishing #Air_Powered_Tooth_Polishing_System #Prophy-Mate_neo #PROPHYflex #Prophy #Prophylaxis #oral_hygiene #air_polishing #Prophy-Mate #AirProphy #Prophy #Prophy_Partner #Prophy-Mate_neo #Prophy-Mate #PROPHYflex #air polisher #Jindell #AirPolishing #Prophylaxis