Premium LED 500
LED GENERATOR INCORPORATED IN AIR TURBINES
5x LED 5 WATER SPRAY SERIES
---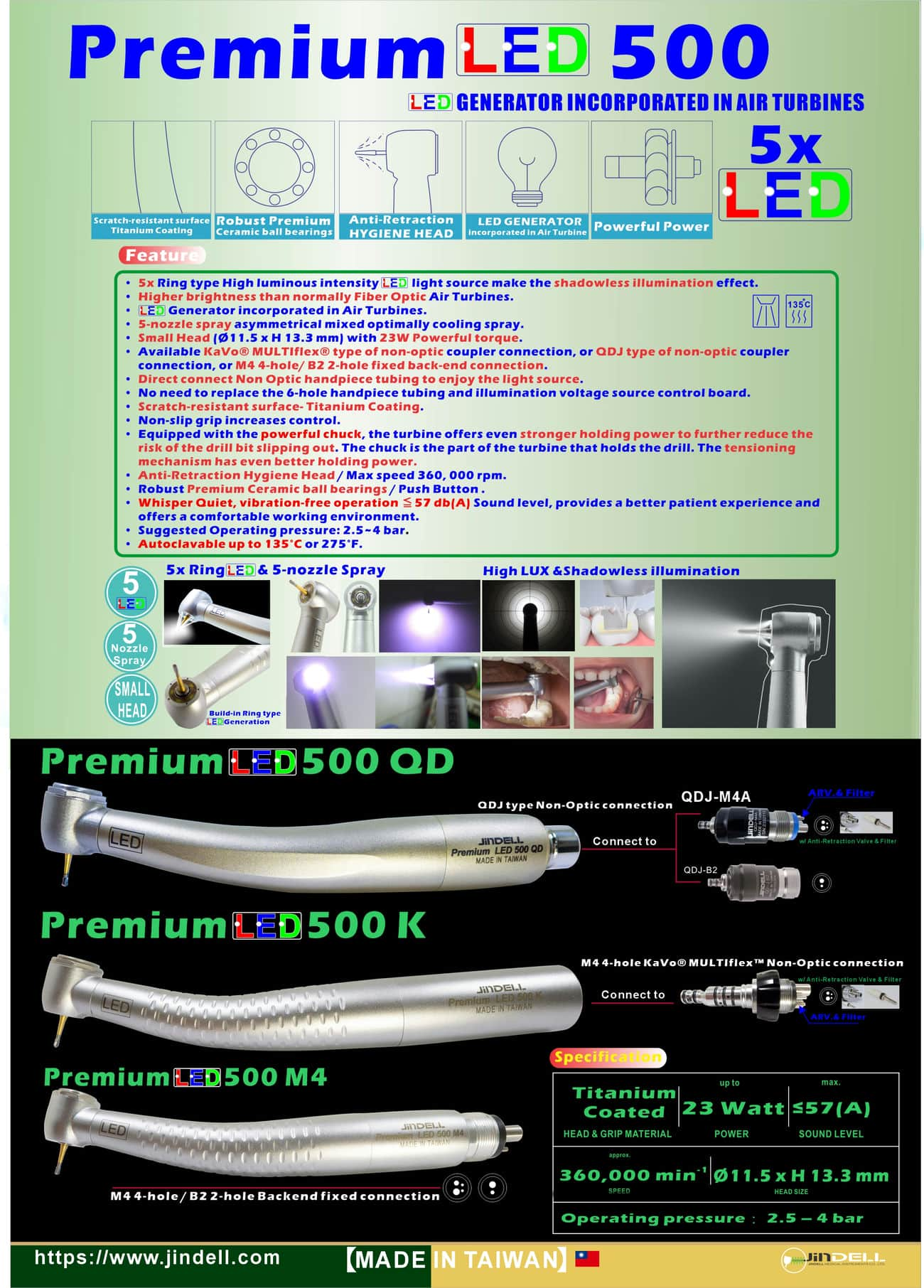 ---

---
Feature:
5x Ring type High luminous intensity

LED light source make the shadowless illumination effect.
Higher brightness than normally Fiber Optic Air Turbines.

LED Generator incorporated in Air Turbines, a clear intraoral visibility is guaranteed.
5-nozzle water spray asymmetrical mixed optimally cooling spray.
Small Head (Ø11.5 x H 13.3 mm)

23W Powerful torque.

Available KaVo® MULTIflex® type of non-optic coupler connection, or QDJ type of non-optic coupler connection, or M4 4-hole/ B2 2-hole fixed back-end connection.

Direct connect Non-optic handpiece tubing to enjoy the light illumination

.
No need to replace the 6-hole handpiece tubing and illumination voltage source control board.
Scratch-resistant surface- Titanium Coating.
Non-slip grip increases control.
Equipped with the powerful chuck, the turbine offers even stronger holding power to further reduce the risk of the drill bit slipping out. The chuck is the part of the turbine that holds the drill. The tensioning mechanism has even better holding power.
Anti-Retraction Hygiene Head / Max speed 360, 000 rpm.
Robust Premium Ceramic ball bearings / Push Button .
Whisper Quiet, vibration-free operation ≦57 db(A) Sound level, provides a better patient experience and offers a comfortable working environment.
Suggested Operating pressure: 2.5~4 bar.
Autoclavable up to 135°C or 275°F.
Upgraded wedge design for enhanced clamping force & improved bur retention over time.
Precision Balancing.
State-of-the-Art manufacturing cell for impellers.
Stainless steel bur guide bushing improves bur concentricity and extend chuck life.
Heat-treated, precision-ground spindle with honing of critical dimensions and reduces chuck wear and prolongs life.
EDM precision machined collet.
---
KaVo® MULTIflex®
is trademarks of a third parties not affiliated with JinDELL Medical Instruments Co., Ltd.
* Performance value applies at a rated pressure of 3 bar and exhaust air pressure of max. 0.3 bar.
---

---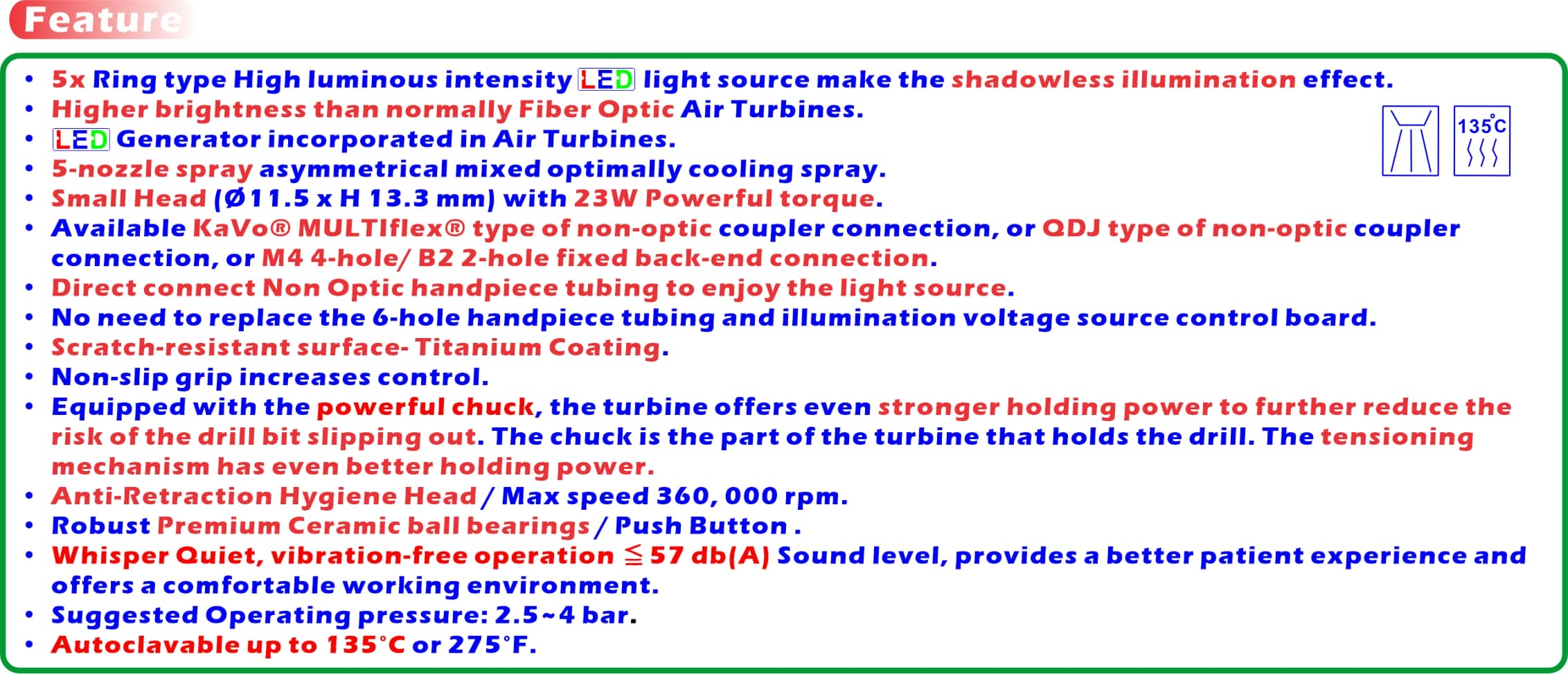 ---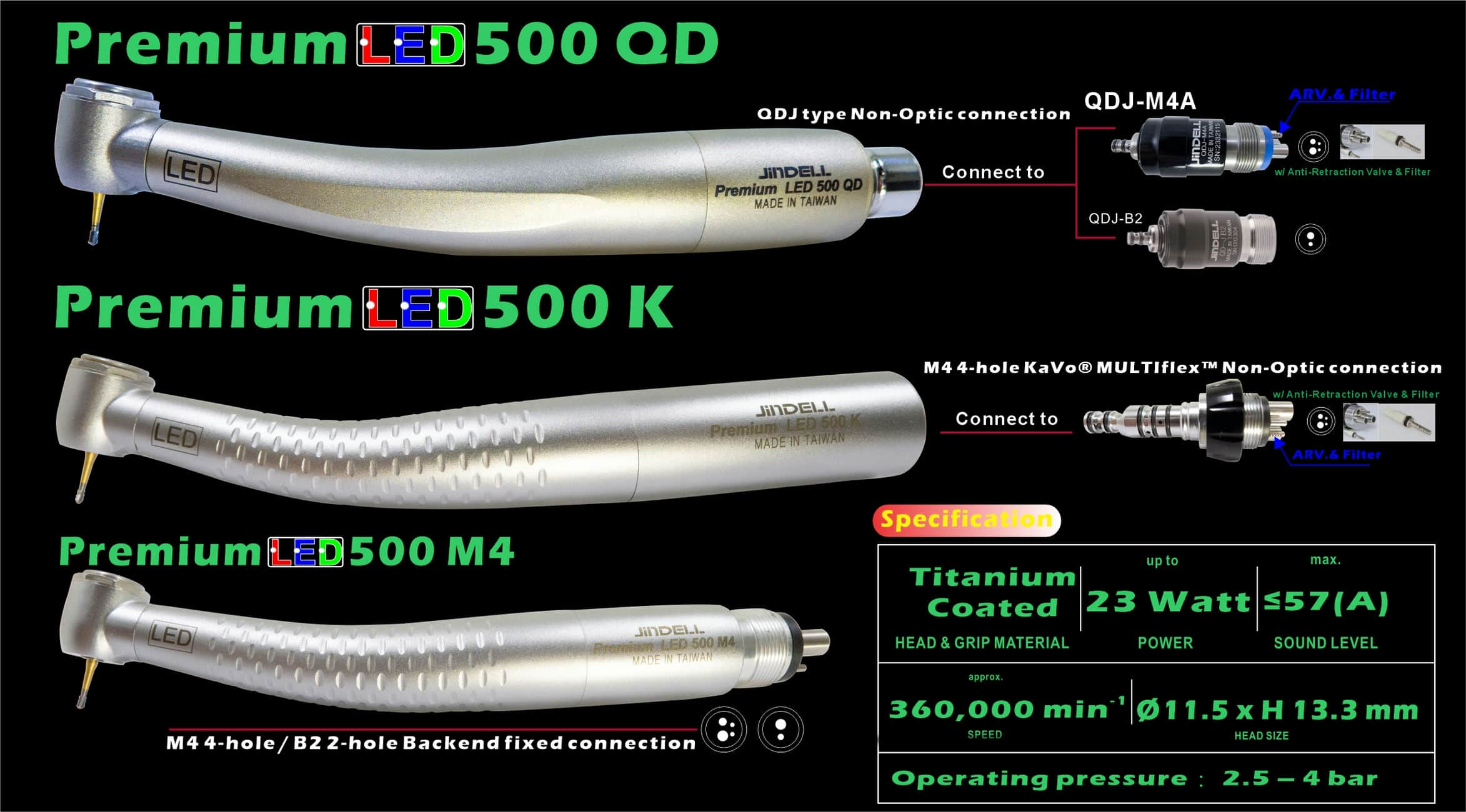 dental #Handpiece #jindell #surgical #dentist #oralhygiene #handpieceMaintenance #lubrication #oiling #NSK #Endomotor #WH #TK98 #LEDGenerator #Turbines #Handpiece #Self_Generator #LED #AntiRetraction