Premium AirSonic Endo handpiece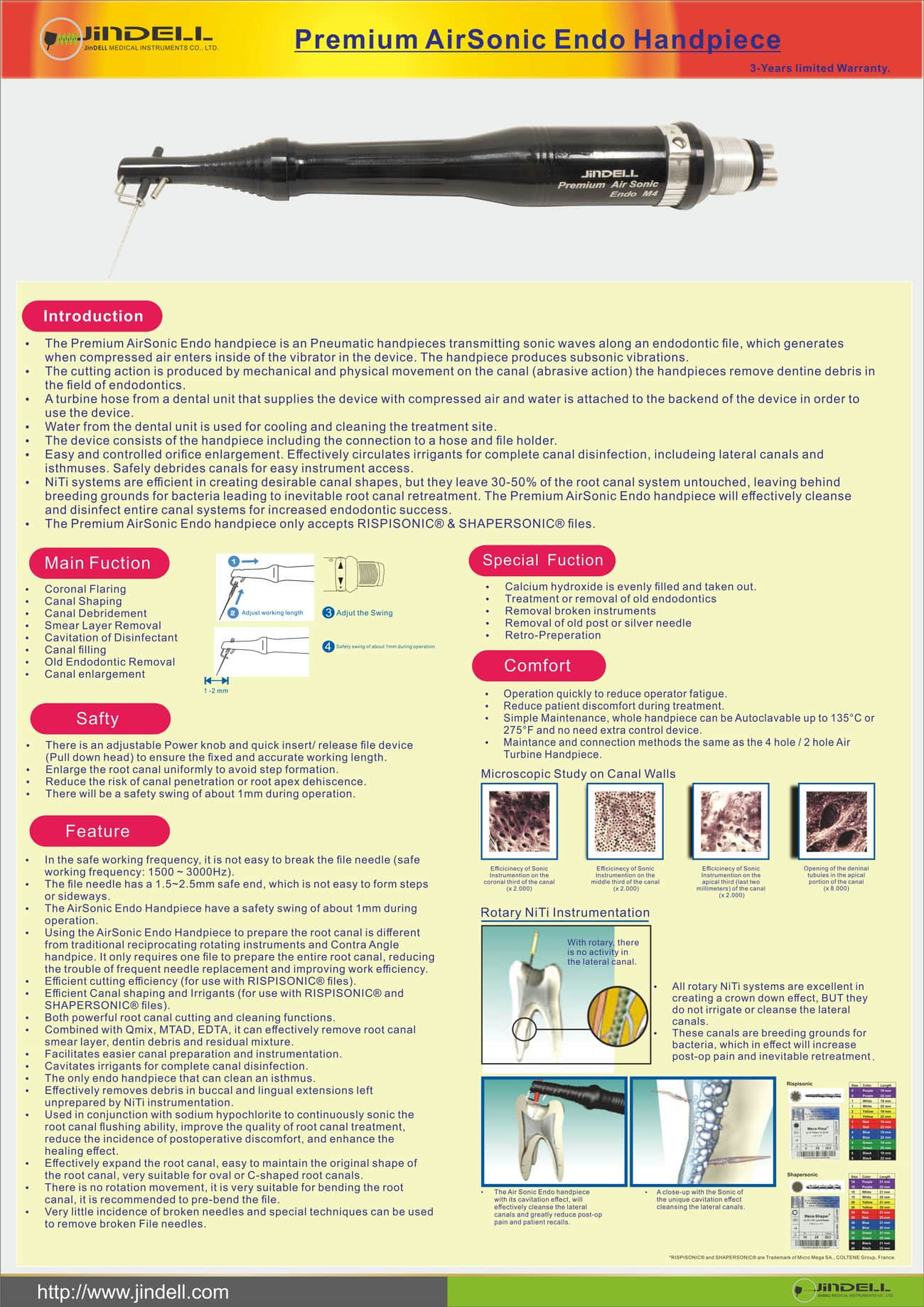 Premium AirSonic Endo handpiece
Introduction:
The Premium AirSonic Endo handpiece is an Pneumatic handpieces transmitting sonic waves along an endodontic file, which generates when compressed air enters inside of the vibrator in the device. The handpiece produces subsonic vibrations.
The cutting action is produced by mechanical and physical movement on the canal (abrasive action) the handpieces remove dentine debris in the field of endodontics.
A turbine hose from a dental unit that supplies the device with compressed air and water is attached to the backend of the device in order to use the device.
Water from the dental unit is used for cooling and cleaning the treatment site.
The device consists of the handpiece including the connection to a hose and file holder.
Easy and controlled orifice enlargement. Effectively circulates irrigants for complete canal disinfection, includeing lateral canals and isthmuses. Safely debrides canals for easy instrument access.
NiTi systems are efficient in creating desirable canal shapes, but they leave 30-50% of the root canal system untouched, leaving behind breeding grounds for bacteria leading to inevitable root canal retreatment.The Premium AirSonic Endo handpiece will effectively cleanse and disinfect entire canal systems for increased endodontic success.
The Premium AirSonic Endo handpiece only accepts RISPISONIC® & SHAPERSONIC® files.

The RISPISONIC® and SHAPERSONIC® are the trademark of Micro Mega SA., COLTENE Group, France.