Micro SandBlaster
Handpiece
Aluminum Oxide
with Water Irrigation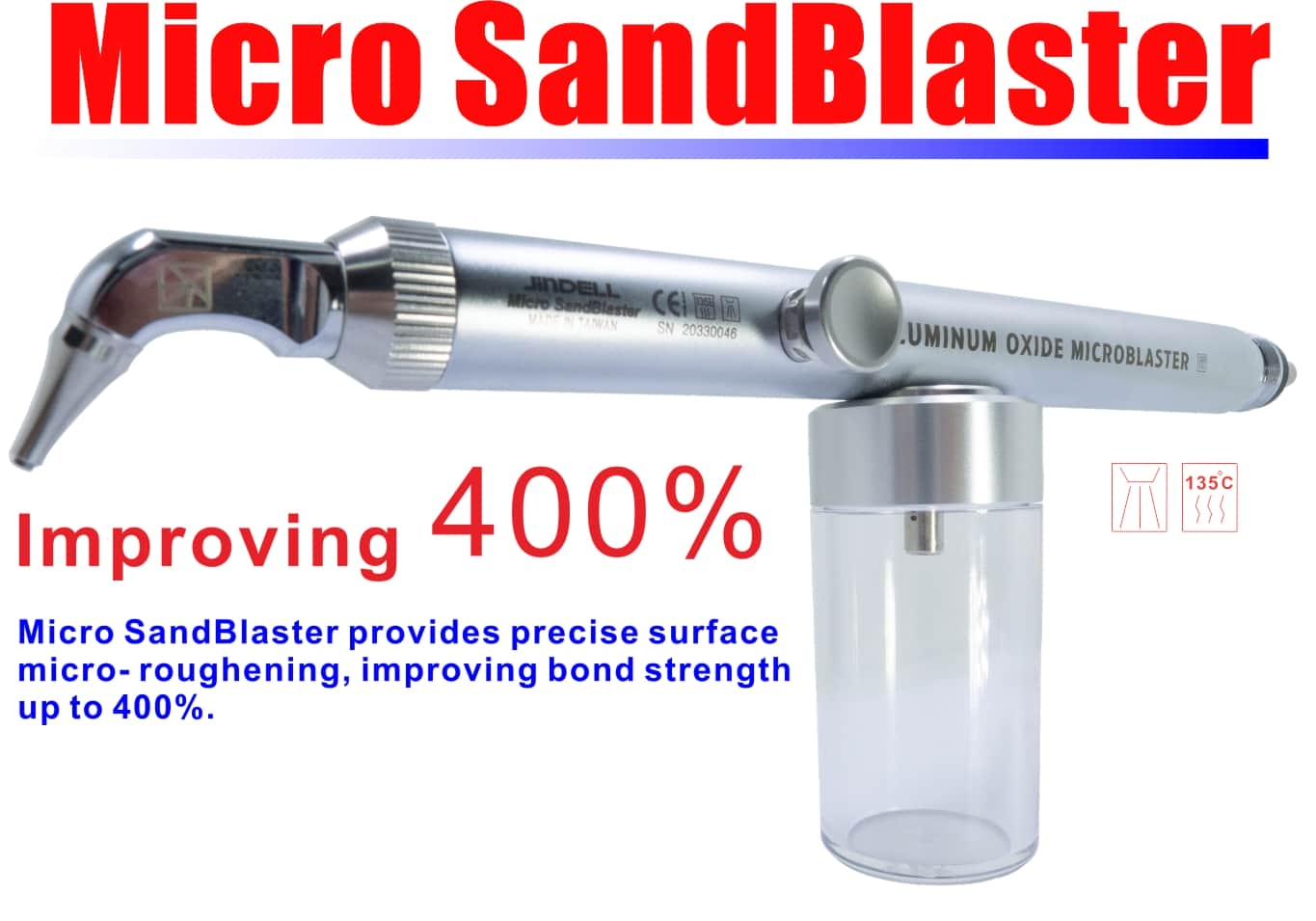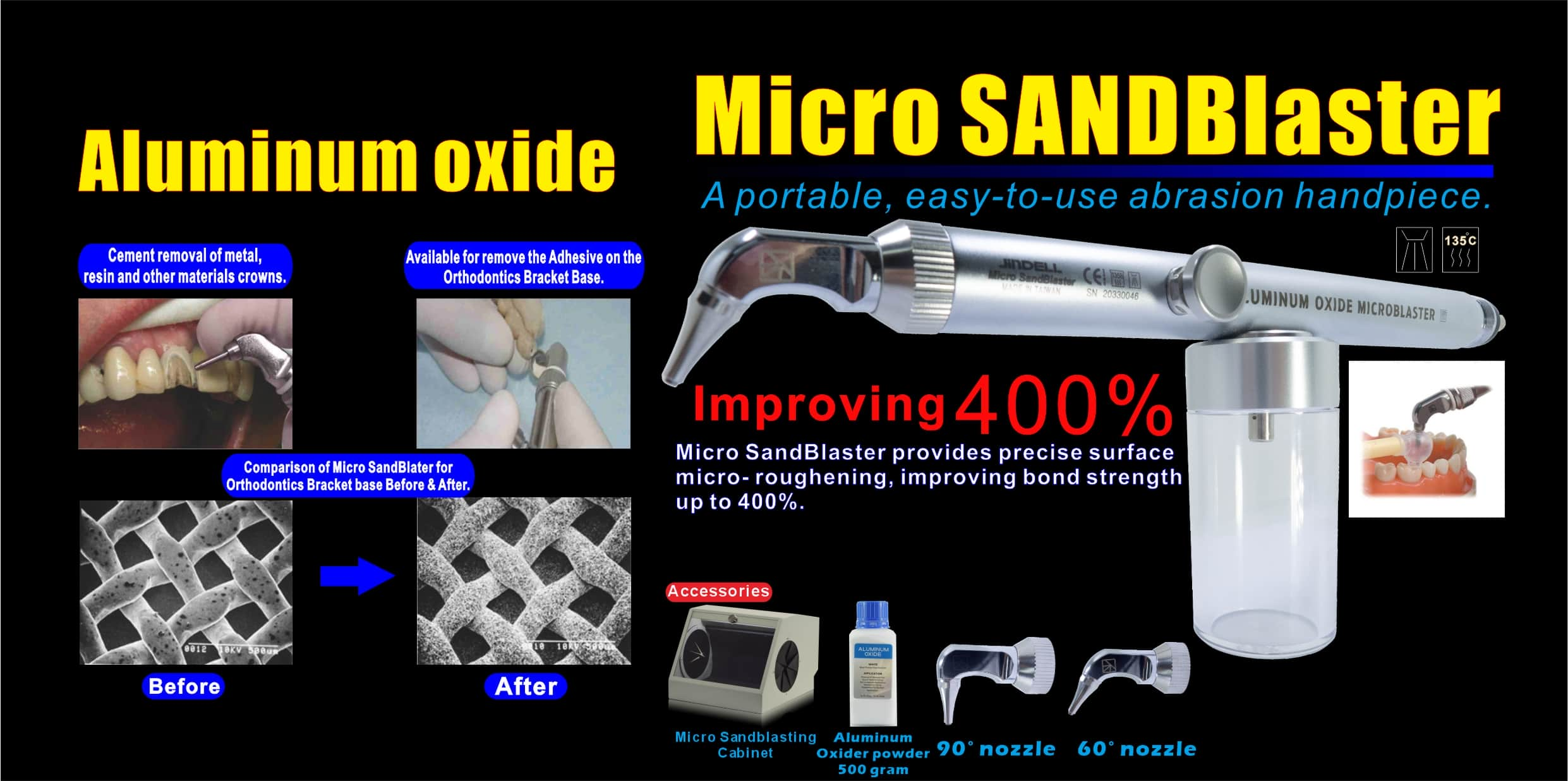 ---
Micro SandBlaster

Handpiece-




Aluminum Oxide

with Water Irrigation
Introduction:
Jindell
Micro SandBlaster handpiece- Aluminum Oxide
is a compact,
fully autoclavable up to 135°C
or 270°F for use with
abrasives such as aluminium or silicon oxide powder (particle size 20-80 micron available)
. The
micro-fine blasting can be used to roughen the surfaces of metal, ceramic and plastic materials for effective reinforcement of adhesion with bonding agents
.
---
Features:
Highly efficient, clean work, light-weight, accurate

and with the best possible protection of healthy tooth substance.

Gentle treatment

without drilling, without injection, without noise, without vibrations

and

without an unpleasant sensation in the mouth

: pleasant for your patient, particularly for sensitive patients, children and young people.

Extended

Durable & Sturdy Stainless Steel Grip

design, the nozzles and Grip can be disassembled, easily to clean and maintained

more thoroughly.

Thermo washer disinfectable and sterilizable up to 135°C

or 270°F.

Simple and easy to installation procedures,

Plug and Play

.

Newly

cladding

Sturdy Tungsten Carbide Steel Nozzle

design,

protect nozzles from highly abrasive powders

, extend the lifespan.

Packing with

60°& 90° Sandblasting nozzles

and

Nozzles

Smoothly

Rotatable 360°

for easy operation

.

Newly

Powerful

Positive-Pressure Sandblasting and with

Internal Water Irrigation

,

enhanced

Sandblasting

effect

, reduce powder contamination, dust and mist flying. Substantially smaller debris radius, more easily removable corundum particles,

more convenient treatment

.

Inlet

Air & inlet water separation, double anti-suction valves design, no pollute the dental chair internal pipeline

.

On/Off Finger push button can accurately and precisely control

and supply reliable Sand blasting amount volumes.

Extremely versatile

; attaches to

any handpiece tubing connector

of virtually any dental chair or

connection for Laboratory (optional)

.

Extraoral treatment

must use of

30 or 50 micron (µm) Glass Sand, Aluminum Oxide sandblasting powder

is recommended.

It can be used to prepare

extraoral restorations for cementation

.

Provides precise

surface micro-roughness, improves bond strength by up to 400%, cleans and coats (siliconized)

surfaces.

It can be used for

extraoral veneers, inlays, onlays, inlays-onlays, zirconia crowns, all-ceramic, metal crowns, Crowns Bridges, indirect resin composites, restorations, Fiber Post, Orthodontics fastening

...etc.

It can be used to

remove Cement Removal of metal, clean inlays-onlays, adjust and place Crowns, adjust interdental contact, clean castings, remove oxides, intraoral ceramic restorations Clean and degrease metals and ceramics, can be used for fully sprayed and removed orthodontic bracket base and the adhesive at the bottom of the groove mesh

.
---
Standard

Model products contains

:
1

pce of

Autoclavable

Stainless Steel Grip of

Micro SandBlaster handpiece

(4-hole fixed backend connection).

1 pce of

60°

nozzle

and

1 pce of

90° nozzle

, Totally

2 bottles of powder storage case

, and 1 maintenance kit.

1 pcs of

4-hole Adapter with pipeline connetor for Laboratory connection (Optional)

Package Quantity: 1/Pkg
---
New- Released

Optional New Item Model products contains:
Grip material is Brass after Scratch-resistant surface- Titanium Coating. Still contain with Stainless Steel Sandblasting inlet pipes and cladding durable tungsten carbide steel nozzle.
1

pce of

Autoclavable

Titanium coating Grip of Micro SandBlaster

handpiece

(Optional connection).

1 pce of

60° nozzle

,

1

bottles of powder storage case

, and 1 maintenance kit.

Package Quantity: 1/Pkg

Optional Available

QDJ connection

(concern coupler sold separately)

, KaVo® connection

(concern coupler sold separately)

, M4 (4-hole) fixed-Backend connection, B2 (2-hole)

fixed-Backend

connection

.

---
Aluminium Oxide Powder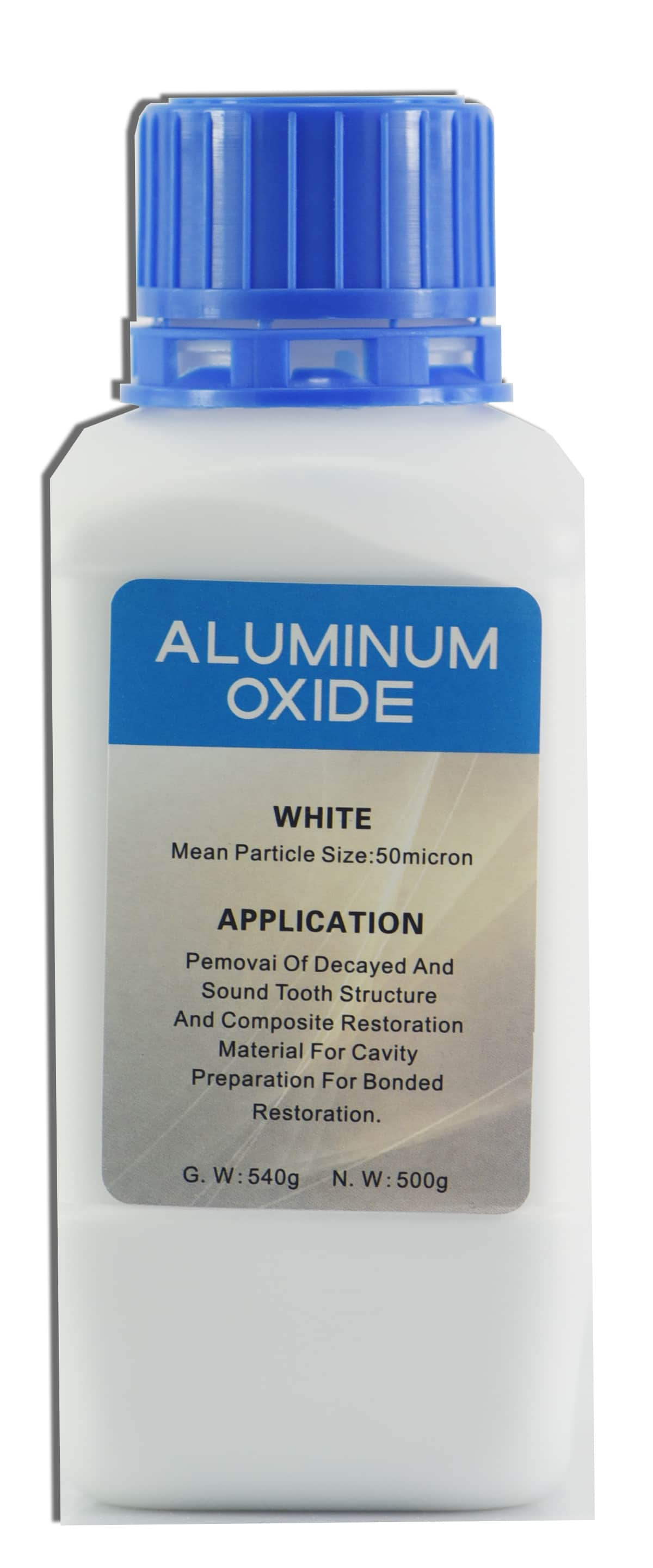 Product Details:
Aluminium Oxide – 50 Micron, White, 500g/ Bottle

Pure

50(µm) Micron white aluminium oxide for high abrasive power; recommended for Extraoral use

.
Aluminium Oxide is an abrasive indicated for:
Bonding and cavity prep

.

General use,

metal, porcelain, acrylic, nonmetal surfaces, used for brackets, braces and touch-ups

... and etc. in the operatory.

Ideal use for:

MicroEtcher™, PrepStart™, Deldent Miniblaster™, KaVo®RONDOflex Plus™
Specifications
Color:White

Grit:50 Micron

Package Quantity:1/Pkg

Size: 500g/bottle

Type: Powder